Today's the day. After what had been a long year-and-a-half gap between The Jestivan and The Untenable, I had made the decision to streamline the writing, editing, and publishing process.
Now here I am, six months after The Untenable's release, with the third book published. I aim to lessen that gap even more for the fourth book.
Anyway, on to the part that you really care about: The Uprising.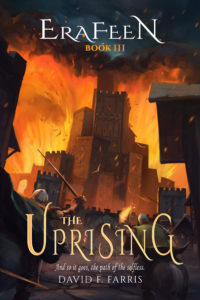 AMAZON
AMAZON (UK)
AMAZON (CAN)
Phesaw has shut down indefinitely. Now the Jestivan scatter across Kuki Sphaira's two realms and ten kingdoms, as they each recuperate from the recent disaster.
Readers, be ready to sail the Sea of Light and Realm Rivers with a crew of pirates, attend the most coveted weaving academy in the world, and trek the world's most dangerous mountain range with a group of bounty hunters.
This is the most epic book in the series yet. With Dev King Storshae and the Rogue Demon guiding their puppets, will the Dark overtake the Light?
—
The paperback version of the book won't be published until either later tonight or tomorrow. As of right now, only the ebook is available for purchase. The eBook will be $2.99 until Friday, when it will then move up to its regular price of $4.99.
I hope you all enjoy The Uprising.
Fair warning: There will be heartbreak unlike anything you've experienced from the series so far. A couple of my Energy Directors have already expressed their feelings to me.
Do get in touch if you have any questions or comments about the book — or anything. I like to interact with my readers.
If you haven't purchased The Jestivan or The Untenable yet, but suddenly want to, here are the links:
Here's a pretty picture: