I've been teasing at it for over a month now, and the time has finally come to lift the garage door and show you what I've been tinkering with.
It's crazy to think how much has happened since the first chapter of the first Erafeen novel, The Jestivan. It released January 9, 2016. Since that time, the young elites of Phesaw have been through hell and back. With all of the laughter and adventure comes heartbreak and loss.
On a global scale, it seems like a war has been brewing for years. I'd say it's close to boiling over. And it isn't just a matter of two opposing sides, but a layered kaleidoscope … if that makes any sense.
With all of these power players—some of which seem to oppose not only their enemies but their allies too—it's difficult to tell who really holds the reins. It all comes down to who's done the most with the puppets at their disposal, and will they pull the right strings?
Whose mind is further ahead than the rest?
It can all be found in The Uprising, the third book in the Erafeen series, set to release on January 16, 2018.
And guess what? You can pre-order it now. Just click the book cover.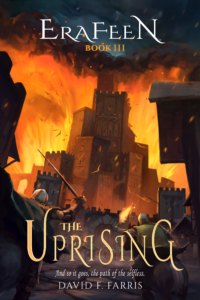 Led by the relentless duo of the Dev King and Rogue Demon, the political landscape of Kuki Sphaira is shifting. The Dark Realm has never been this close to toppling the Light.
As the school of Phesaw closes its doors indefinitely, the Jestivan scatter across the realm. From traveling the Archaic Mountains with bounty hunters, sailing the Realm Rivers with a pirate crew, to attending a school in the city of Brilliance with the brightest minds the world has ever seen … the young elites chase their own goals.
And as the Light Realm's talented youth splits apart, the opposition strengthens. The Dark Realm has become united, and they continue to gain more allies from unexpected places. Only a few of the Jestivan will find themselves in position to change the global narrative while others fight personal demons of their own.
The balance of power will tip, war will be declared, and an uprising starts it all.
So it's clear things will become intense in the third installment of the Erafeen series. The cover, title, and blurb all scream INTENNNNNNNNSSSSEEEEE.
I can't wait for everyone to read it. I expect some devastated emails once readers finish. MWAHAHA.
Remember, you can purchase The Jestivan and The Untenable, the first two Erafeen novels, on Amazon. Click the image.
And for those of you still with me, here are some bonus images to get you MORE PUMPED FOR MORE JESTIVAN ACTION.