I'm exhausted. Listen, I love my story, world, and characters, but when you read through a book five times in the span of two months, you kind of want to rip your eyes out of your skull.
With that said, it was worth it. It's what you have to do to make sure you give the readers the very best. And now I have good news. The last layer of editing is completed. I've built, fine-tuned, and tested the content; now it comes down to polishing. That would be the formatting … or turning the manuscript into an actual book, adding the front matter (maps, table of contents, publisher information, etc.), and other little things that are necessary.
Meanwhile, my illustrator is making progress on the book cover. It is looking GORGEOUS. And once I finish formatting the book, I can give him the proper dimensions to finish the book's spine.
We're well on our way to Erafeen #2's release, and I want all of you to stay tuned for the cover and title reveal because it's coming within the month.
Man I'm excited. We're picking off these roadblocks one-by-one.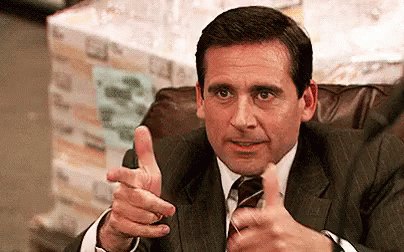 I should be ashamed of how long it's been since I last used a Michael Scott gif.
Remember that The Jestivan (Erafeen, #1) is FREE on Amazon Kindle, Barnes & Noble Nook, iTunes/iBook, Smashwords, Kobo, and NoiseTrade. The paperback is also available for purchase on Amazon, Barnes & Noble, or Books-A-Million.
And as always, don't forget to leave me a review on Amazon or Goodreads after reading my book. It helps more than anything else!
Well that's it guys and gals. Thanks for motivating me to keep going. Have an ethical day.